Dubbed as the world's first 3D water cube aquarium, the Fluval Edge can be filled to the very brim while providing high clarity viewing from every angle. Fluval Edge comes in a 6 gal and 12 gallon version.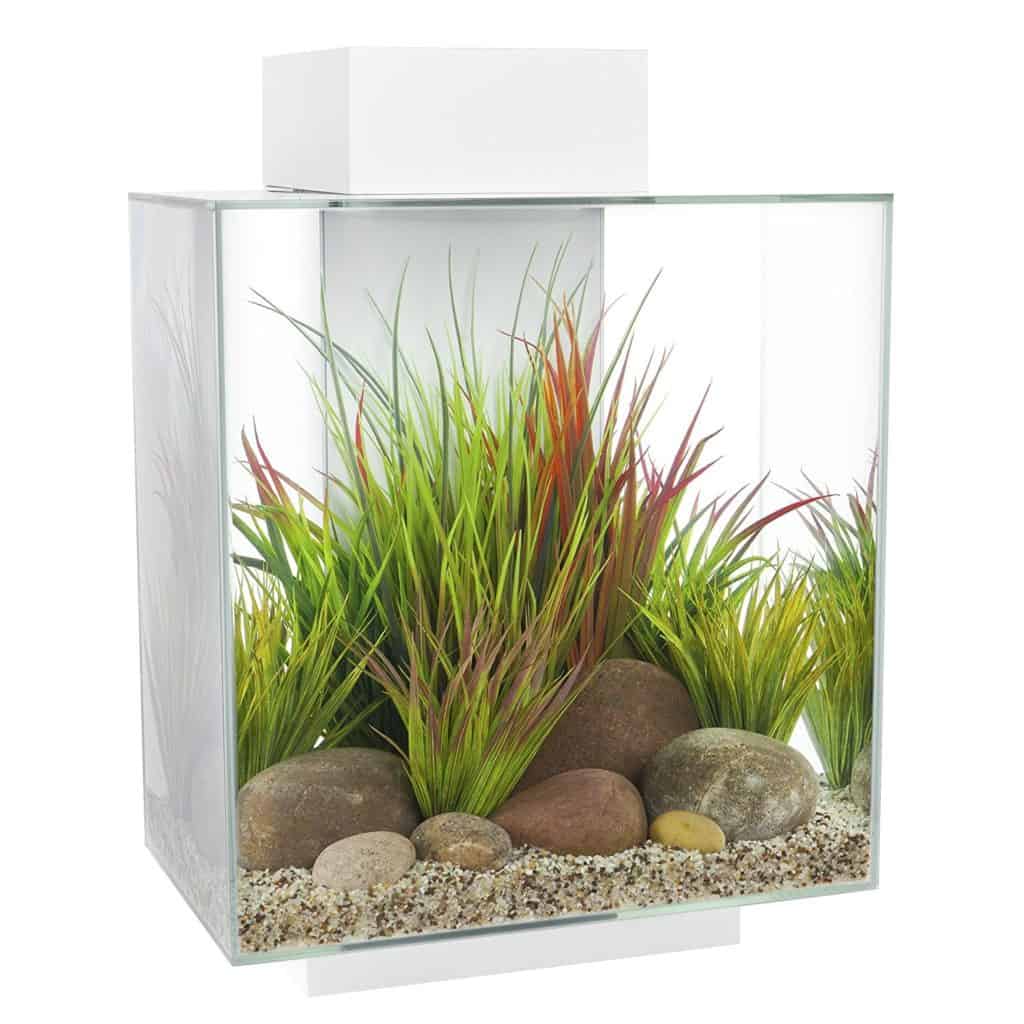 Product Name
Fluval Edge
Customer Rating
Gallons
6-12
Item Dimensions
14.3 x 17 x 13.7 in -6G
14.3 x 17 x 22.2 in-12G
The 6 gal version seems to have more ideal dimensions for a planted tank. It's unique, contemporary design will surely make a beautiful showpiece in any room of your house.
The Edge is a great glass aquarium kit that comes with beautiful LED lighting and a filtration system that you can customize to suit your needs.
Not Exactly Aquascape Friendly:
Believe me, if you have to aquascape this aquarium and prune your plants, be prepared for a long day. The access hole makes it very difficult to maneuver your hand inside. Also, be sure to drain at least half of the tank water as well if you plan on trimming plants.
However, I would only recommend low to medium-light plants. The addition of Co2 is tricky due to the unique design and I would recommend against it. If done right, this can be a beautiful planted tank while remaining "low tech."
Maintaining the glass clear and free of algae can be tricky. Be sure to buy a small magnet cleaner and decorate your tank so the magnet has room to move freely while on the inside. Drain some water before maintenance to avoid any overflow issues resulting from putting your magnet cleaner or hand inside the tank.
Fluval Edge Features:
21 High output LED's at 7600K (be sure to get the LED version).
Unique and contemporary design will capture the attention of everyone.
Available in 6 or 12 gallon models, wide or tall.
PROS:
Filtration is bar none thanks to the included filter that is basically a Hagen AquaClear.
Contemporary design makes it look like the aquarium is floating in air. I can attest to the fact that this aquarium does receive it's fair share of compliments from friends and family.
The LED lighting is relatively strong and has been documented to grow low and medium light loving plants well.
Viewing your aquarium from the top is definitely a pleasure.
CONS:
Difficult to aquascape due to the the inherent design properties. The top opening is very small.
Unique design makes it difficult to clean on a regular basis.
Micro-bubbles can form and create an unsightly viewing experience from above. Ensuring proper water levels and filtration flow helps combat the introduction of air bubbles into the aquarium.