The Fluval Spec iii is a desktop glass aquarium coming in at a mere 2.6 gallon capacity. It boasts an integrated 3-stage filtration chamber with a 40 gal/hour circulation pump with output nozzle.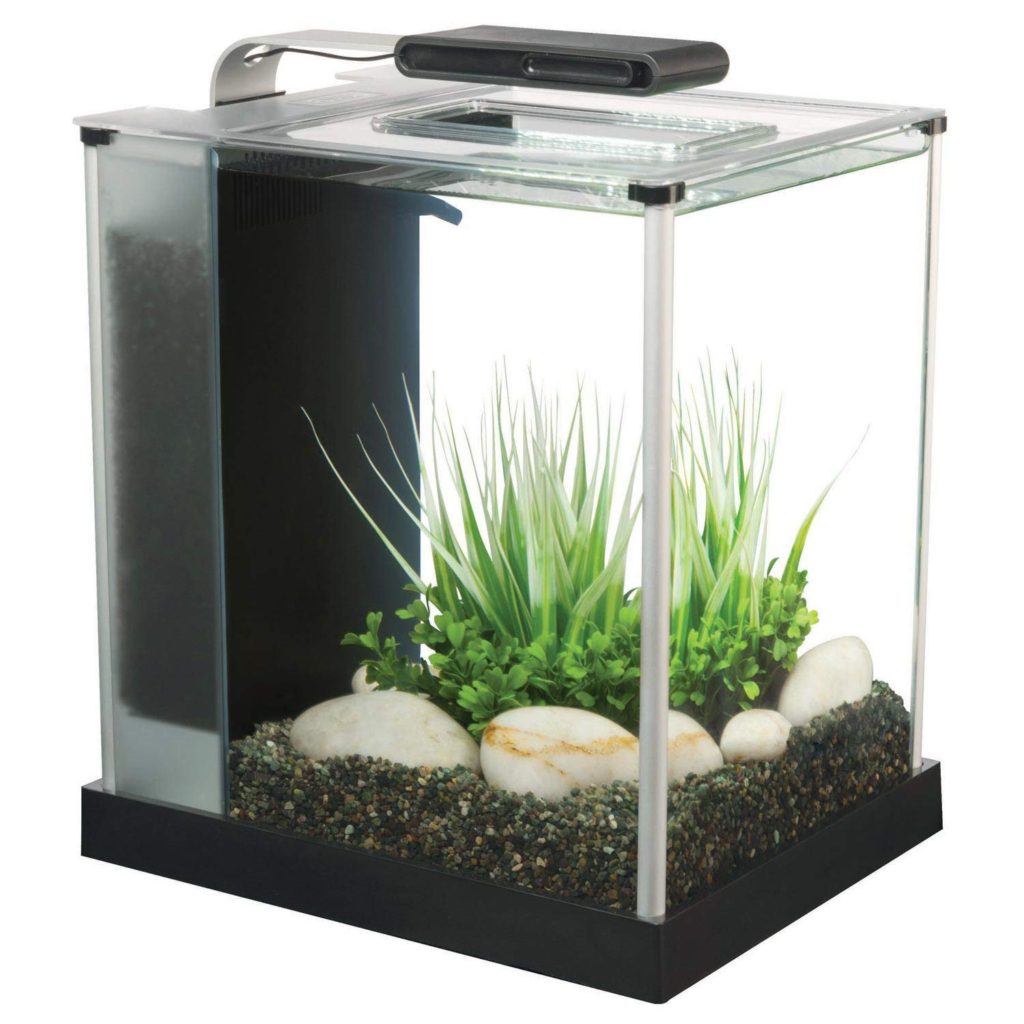 | | |
| --- | --- |
| Product Name | Fluval Spec III |
| Customer Rating | |
| Gallons | 2.6 |
| Item Dimensions | 8.7 x 10.8 x 11.8 in |
If your are short on space but love aquariums, consider a nano aquarium such as this.
If you are considering purchasing this nano tank, it's also important to keep in mind how small this product is. You will be limited to small and few fish. As such, this tank is relatively popular for betta fish enthusiasts, planted tank hobbyists, and cherry shrimp owners.
Fluval Spec Features:

3 Stages Of Filtration:

Mechanical:

Porous foam block that traps large debris. The foam block is easy to clean and reusable.
Chemical:

Activated carbon included. Easy to remove and replace. However, in my opinion, you should consider using Seachem Purigen as it is vastly superior to carbon.
Biological:

BIOMAX inserts create an ideal environment for beneficial bacteria to colonize ensuring the nitrification of fish waste.
The pump also has a flow control tab to decrease output for less current to suit your needs.
The LED light is intended for low light plants only. It's flexible neck provides added convenience which allows you to adjust the lighting position as you see fit.
PROS:
Perfect size for your office desktop.
Glass tank, less prone to scratches.
Filter is fully-integrated into the back wall, concealed by frosted glass on the sides of the aquarium for pleasant aesthetics.
CONS:
Lighting is sub-par and you will be limited to low light plants.
Some customers use foam pads to cover water outlet to decrease flow for betta fish.
A few customers have noted that the cover has a too big of a round hole (pic below) which your fish may jump out of.